Harnessing MLS Therapy for Peroneal Pain Relief
Tuesday, 24 October 2023 00:00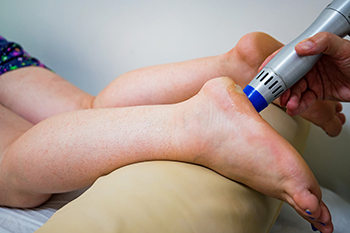 Peroneal pain is a common challenge arising from injuries or strain to the lower leg and foot peroneal muscles, often disrupting mobility and well-being. Multiwave Locked System, abbreviated MLS therapy is a groundbreaking technique that offers relief from this discomfort. MLS therapy addresses peroneal pain thoroughly by utilizing synchronized wavelengths of laser light. The continuous wavelength triggers the release of natural pain relievers, swiftly alleviating discomfort, while the pulsed wavelength encourages cellular repair and diminishes inflammation. This dual-pronged approach not only provides relief but also accelerates healing, enabling individuals to regain their stride sooner. The non-invasive nature of MLS therapy ensures minimal disruption to daily life, making it an attractive relief option for peroneal pain. If you have this type of pain, it is suggested that you confer with a podiatrist who can determine if this treatment is right for you.
MLS Laser Therapy is a successful alternative for treating any pain you may be experiencing related to certain podiatric conditions.  If you are interested in MLS Laser Therapy, consult with one of our doctors from Coral Desert Foot & Ankle. Our doctors will assess your condition and provide you with quality foot and ankle treatment.
MLS Laser Therapy
Multiwave Locked System (MLS) Laser Therapy is a patented, FDA-cleared technology that helps relieve pain and inflammation from a number of podiatric conditions, including:
Heel Pain
Plantar Fasciitis
Sports Injuries
Wounds
Achilles Tendonitis
Arthritis
Neuropathy
Neuromas
MLS Laser Therapy is an ideal alternative to surgery and prescription medication, as it has no negative side effects and encourages accelerated healing. Among its many clinical benefits, MLS Laser Therapy also:
Reduces swelling due to bruising or inflammation
Blocks pain
Reduces formation of scar tissue
Improves nerve function
If you have any questions, please feel free to contact one of our offices located in St. George and Kanab, UT, and Mesquite, NV . We offer the newest diagnostic and treatment technologies for all your foot care needs.
Read more about MLS Laser Therapy